PRODUCTS
DC BRUSHLESS PUMPS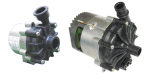 Energy efficiency through variable speed control

Our variable speed pumps help your system to improve the energy saving.
AC SELF-SUCTION PUMPS

The first successful pump of OGIHARA

The pump with an unique suction structure is installable up to 2m above the water level.
AC PUMPS (PF)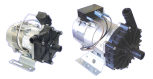 For low flow use

PF series are sealless pumps with disk magnetic coupling and suitable for limited installation spaces.
AC PUMPS (PS)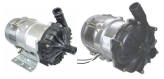 For high flow use

PS series are sealless pumps with sleeve magnetic coupling, are suitable for high flow up to 50L/min.
WATER TREATMENT SYSTEMS

Our flexible services meet your needs

We respond to your inquiries such as design, assembly, installaton and maintenance!
SENSORS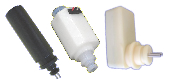 Electrical conductivity sensor / Air bubble sensor

Variable sensors to enhance your system performance!
FUEL CELL ACCESSORIES
In 2005 we joined a project held by NEDO (New Energy and Industrial Technology Development Organization) to develop the water pump for household fuel cell systems.
Through the process of development with fuel cell manufactures, we found that they were still seeking some solutions to monitor the quality of water.
Our experiences and knowledge in water treatment met their needs, therefore we came to develop the sensors and the water treatment filters.
Since 2009 in which a household fuel cell sysytem was launched in Japan, our products have been used for fuel cell systems of various manufacturers.
ABOUT US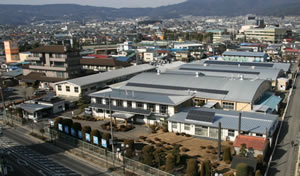 COMPANY PROFILE
Company Name : OGIHARA MFG. Co., Ltd.
Established : June, 1946
Capitals : 81 million yen
President : Aruto Takaoku
Products : Water pumps, sensors, FC accessories, water treatment systems and moldings.
CONTACT US
Address :4717 Shimosuwa-Machi, Suwa-Gun, Nagano 393-0087 Japan
TEL : +81-266-27-2215
FAX : +81-266-28-5811
MAIL : eigyo@ogihara-mfg.co.jp
COMPANY HISOTRY
1946
OGHARA MFG. CO.,LTD. is established as a motor manufacturer.
1960
OGIHARA starts the water treatment business.
1980
OGIHARA starts the water pump business for water boiler market.
SELF-SUCTION water pumps (SF90/SM90) dominate the marktet in Japan.
1997
OGIHARA is certified according to ISO-9001
2003
Accumulated pump production achieves 10,000,000.
2004
OGIHARA splits off its dies division into an independent subsidiary named OGF.
OGF starts the molding business for its own products and for unaffiliated customers.
2005
OGIHARA absorbs TOKIWA ELECTRIC as the main manufacturing base.
2006
OGIHARA is certified according to ISO-14001.
2008
OGIHARA splits off its water treatment division into an independent subsidiary named HOSTEC.
2013
Accumulated pump production achieves 20,000,000.
PROCUREMENT
PROCUREMENT POLICY
We are looking for suppliers can cooperate with us for better quality of our products.
We would need highly your contact if you could offer us the followings:

Stable and reliable quality
Competitive pricing
Delivery flexiblity
Spontaneous proposals for the mutual growth
Procurement group - Head Office
MAIL : koubaika@ogihara-mfg.co.jp
TEL : +81-266-27-2218
FAX : +81-266-28-5811